March 12, 2010
In family law we often refer to the two parties as "good people at their worst". Divorce is one of the most emotional of court proceedings.  It's not just about money or property, it is about love gone awry (or gone away), and about the loss of your hopes and dreams for the future.  One of the easiest ways to deal with this is to turn your spouse into a bad guy: to remember only the bad times you've had with your spouse and his or her family,  to think only about the bad  characteristics and habits – all of the aggravating and annoying things you've endured  throughout your marriage.
This is normal, and your spouse is likely going through the same emotional turmoil as yourself; but this kind of thinking can be counter-productive to the divorce process, leading you both to be rigid and unwilling to compromise. In order to smooth the way for yourselves and for your children, consider these few things when you go through the process:
1.Your  history with your spouse
What was it that brought the two of you together in the first place?
Take stock of what characteristics led you to marry in the first place.  Were they ones to value?  Do they contribute to making your spouse a good parent?
2. Your spouse's current character and values
How would you describe your spouse's character now?
Have you seen a change since you were married?
What about his or her core values?
How do your character and values compare to your spouse's; generally and as parents?
3. Conflicts between  you and your spouse
How do you and your spouse handle conflicts now?
How do you react to each other now?
Do you know how to push each others buttons?
Do you know when not to?
Do you make the efforts not to?
4. Your expectations: now and for the future.  How do you anticipate your spouse reacting to…
Following through with a court order?
Following through with a negotiated agreement?
Parenting and being actively involved with the children?
Remaining current on the child support or paying child related expenses?
Unless there are reasons to doubt your children's safety, make the effort to not feel threatened as a parent because of the break-up of your marriage. You are leaving your roles as husband and wife.  And if there are no children, that should be the end of it.  You may mourn the end of the relationship, and you may find it hard to move on, but it will happen.
But if there are children, your lives will be interconnected at least until the children are grown and probably even longer as the family grows with grandchildren.  It is in their best interests that neither of you leave your roles as their parents-so long as there are no safety issues involved.  Your children's best interests are paramount, and are a court's prime directive
in determining children's issues as between mother and father.
Your children need their mom and dad.  Find a way to work that out without getting in each other's way.  Try to work together, not at odds.  Kids learn early how to manipulate mom and dad.  That's hard enough if all of you live in one home, but impossible in a separation.  Furthermore, kids need consistency.  If you can't accomplish that then you need to at least make it clear that dad has his rules and mom has hers, and as long as the kids are safe with each set of rules, then they must respect the rules in each home-and so will mom and dad.
The bottom line is:  What's in your children's best interests?  Do you trust your spouse as a parent?  Are your children safe?
Many good people may be at their worst now, during the divorce.  But their core character and values don't really change. When the dust settles, so will you and your spouse.  In the  meantime, resist the temptation to tear at your own and your children's emotions because of issues with your ex.
Comments Off

on Good People in Bad Times? Good People At Their Worst!
December 4, 2009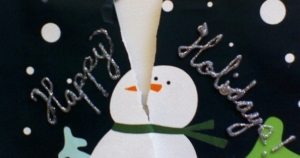 I wrote earlier this week about how the holidays are a time of warmth, family and togetherness… but that warmth, family and togetherness is not always so easy to come by.  Halloween, Thanksgiving, Hanukkah, Kwanzaa and the winter break including Christmas and the New Year all seem to flow together and create high levels of stress.  It is especially acute when you have children who split holidays between mom and dad.  It is a busy time for Family lawyers.
Everyone wants perfect holidays with their children, where everyone is happy and everyone gets along.  But the ideal holiday may be an unrealistic expectation, even for the intact happy family.
When you are divorced, separated or in the process of either of these, it is best to lower your expectations and prepare to be flexible, otherwise your anxiety levels during this time reach the breaking point.  Your best hope may be to just survive the holidays without a major disaster!
I can vividly remember the feelings of panic when my ex took our daughter for a "couple hours" on Christmas day to celebrate with him after the presents were opened at my home, and she didn't return for five or more hours with no calls to let me know she was safe, why she was late, or when she could be expected.
I also remember Halloween stress each year when she was supposed to spend the evening with me.  This was one of my favorite holidays because we lived in a historic neighborhood that had hundreds of trick-or-treaters (our last year there we counted 600 coming to the house).  When she was young, I took her around the neighborhood early to trick or treat so that we could be home to enjoy seeing all the kids and families coming to our house.  Her Dad wanted to take her to his neighborhood too, so again when it was supposed to be for a short time I was often left worrying for hours about where she was and whether she was alright.  But year after year I agreed to this because I wanted her to have memories of a happy time.  Sadly, in my opinion, she missed out on the unique experience of our neighborhood activity.
Your goal for the holidays should be for your children to have positive memories of their childhood holidays.  And sometimes this may mean that you will experience more stress, especially when sharing or splitting time with the other parent who, you believe, is not reliable or respectful of your time or anxieties.
Schedules
Your parenting schedule for the holidays may follow the Model Parenting Time Plans which has you and your ex-spouse alternating holidays.  But if you have special needs or circumstances you may decide to customize the schedule.  Whether sharing the holidays or some other division of time, you will have some holidays or a portion of a holiday alone without your child and you may experience stress and loneliness.
Whatever schedule you have you can be sure that there will come a time when that schedule will not fit with the schedule or traditions of one of you or your extended families.
The key in these situations is to remain flexible and consider exchanging years with your ex-spouse if one of your families is having a big event in a particular year that does not fall on the year the children are to be with that family.  Or make adjustments in the schedule so that your children can celebrate with both families.  Worse than celebrating without your children is to later find out that the holidays are stressful for your children because they are being pulled in opposite directions or end up feeling guilty about having a good time without one or the other parent.
We should put ourselves in the back seat while we focus on the prime mandate of family law – the best interests of the children.
Whatever stresses you feel and whatever issues you have with your ex-spouse, it is important to remember that your children are in the middle.  They pick up on the emotions and anxieties of both of you.  Your reactions to any particular situation may cause negative feelings for your kids. It can be helpful to take a step back and think about how important your position will be five years from now.
This is not to say that you need always give in to avoid conflict.  If you honestly feel that your position has merit or your ex's position is frivolous or a power play and not in your children's long term best interests, or that the effect on them will not be traumatic or otherwise outweigh the long-term benefits, then by all means stand firm.  But first take a deep breath and analyze the issue from your child's perspective.
Here's hoping that your holidays will be happy experiences for you and your children!
Comments Off

on What to Do About Holiday Nightmares